Procurement Policy
Hitachi Electronic Products (M) Sdn. Bhd.. (HEPM) open its doors to worldwide potential suppliers for competitive opportunities.
Selection of suppliers is through fair competition and we place great importance on suppliers which have technical capability, price, quality, delivery reliability, after sales support and financial stability.
HEPM practises multiple purchasing to create and maintain a competitive state amongst suppliers. We also, expect suppliers to be dedicated and pro-actively involved in continuous improvement programmes in respect to technology, cost, quality, dependability and responsiveness for the benefit of HEPM customers.
We value and strive for a win-win, transparent long term partnership with suppliers and will only change suppliers if there are significant advantages to be gained.
Procurement Procedure
Suppliers Introduction
HHitachi Electronic Products (M) Sdn. Bhd. (HEPM) encourages every potential supplier to propose their products.
Potential suppliers can contact our Procurement Department to make an appointment for their product explaination
Request For Quotation
HEPM will provide the necessary specifications and drawings to suppliers for quotations. Potential suppliers may submit their quotations by fax or E-mail to the respective person-in-charge in Material Group. The quotations will be evaluated and further discussions will be arranged with R & D Group for further clarification if necessary.
Parts And Supplier Approval
After price has been finalised and HEPM decided to evaluate the products, parts samples will be requested from suppliers for the parts approval process. If necessary, factory visits will be carried out for audit purposes by our QA ,Material and R &D Groups. Successful suppliers will be registered in HEPM approved vendor list (AVL).
Purchasing Contract
Before the first purchase order is issued , the supplier must sign the HEPM purchasing contract specifying the rights and responsibilities of each party.
Purchase Order
HEPM Material Group will issue a purchase order based on terms and conditions spelled out in the purchase order.
Mini-Expo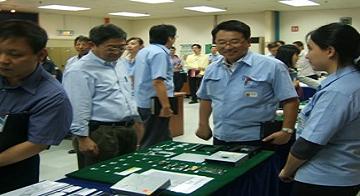 HEPM regularly arrange Mini Expo's to encourage current and potentional suppliers to propose their products.